CLS Wind Joins 2022 Rice Alliance Clean Energy Accelerator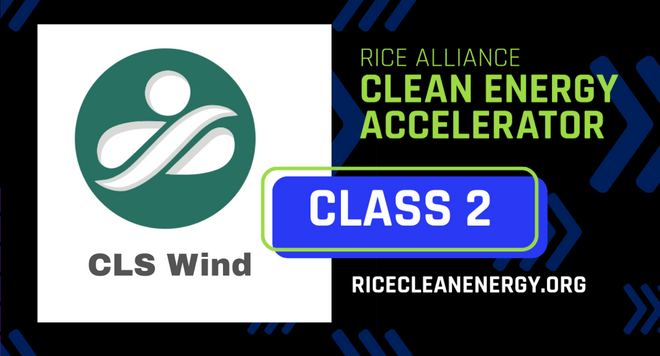 HOUSTON — (August 5, 2022) — CLS Wind has joined the Rice Alliance Clean Energy Accelerator — Houston's preeminent clean energy startup accelerator. 
The accelerator invites promising, transformative global energy tech startups to participate in an annual program in Houston in September. Once in the program, startups have access to 70+ industry experts and successful entrepreneurs serving as mentors, as well as a dedicated leadership team including five Executives-in-Residence, who bring extensive field expertise and will provide personalized guidance and mentorship. 
Selected from an impressive pool of global applicants, CLS Wind will join 16 others in the second cohort of the accelerator. Collectively, these startups are driving innovation in Advanced Materials, Digital Technology for Energy, Energy Efficiency, Energy Storage, Geothermal Energy, Hydrogen, Waste Heat to Power, Wave Energy, and Wind Energy.
CLS Wind, founded in Houston, Texas, is focused on the future of wind power with a self-erecting wind turbine tower system that helps minimize project delays, avoids loss of revenue, reduces environmental impacts, and allows owners to produce energy quicker than usual.
The Rice Alliance for Technology and Entrepreneurship at Rice University has a 20+ year history of supporting startups, tech and the innovation ecosystem. Since inception, more than 978 energy tech ventures have participated in our energy forums and raised more than $7.2 billion in funding. Class 1 of the Rice Alliance Clean Energy was delivered virtually in Summer of 2021. The 12 startups in the inaugural class have raised $6.5M amount in funding.
Learn more about the Rice Alliance Clean Energy Accelerator at ricecleanenergy.org.